Perfume Filling Machines
Our perfume filling devices are precision engineered machines manufactured up to highest industry standards. These filling machines utilize high technology to achieve an elevate filling speed and to fill bottles with great precision, accurately. The Coven made fillers function wide a wide range of bottle size, fill volumes and liquid types. Suitable both for the perfume industry and laboratories. The machines are characterized by a simple operation and a compact design which make our perfume filling machines suitable for small and big production units as well.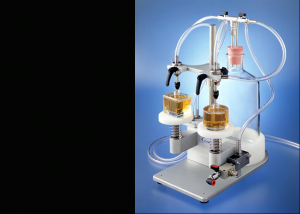 Our 35 years of experience allows us to create high quality and user-friendly products; from the simplest manual crimping tools up to automated filling crimping line. Our clients are guaranteed post-sales assistance and flexible and reliable technical service.
We can also offer customization service for the perfume filling machines meeting specific requirements of our clients.
On the photo you can see the Perfume Bottle Filling Machine mod. DV98
Two nozzles vacuum pneumatic filling machine, able to fill liquid in all different bottle shapes and capacities through the use of vacuum. This unit is complitely pneumatical operated, no electrical parts are involved. Cost efficiency and minimum maintenance are main characteristics.